Sommerexcursion 2019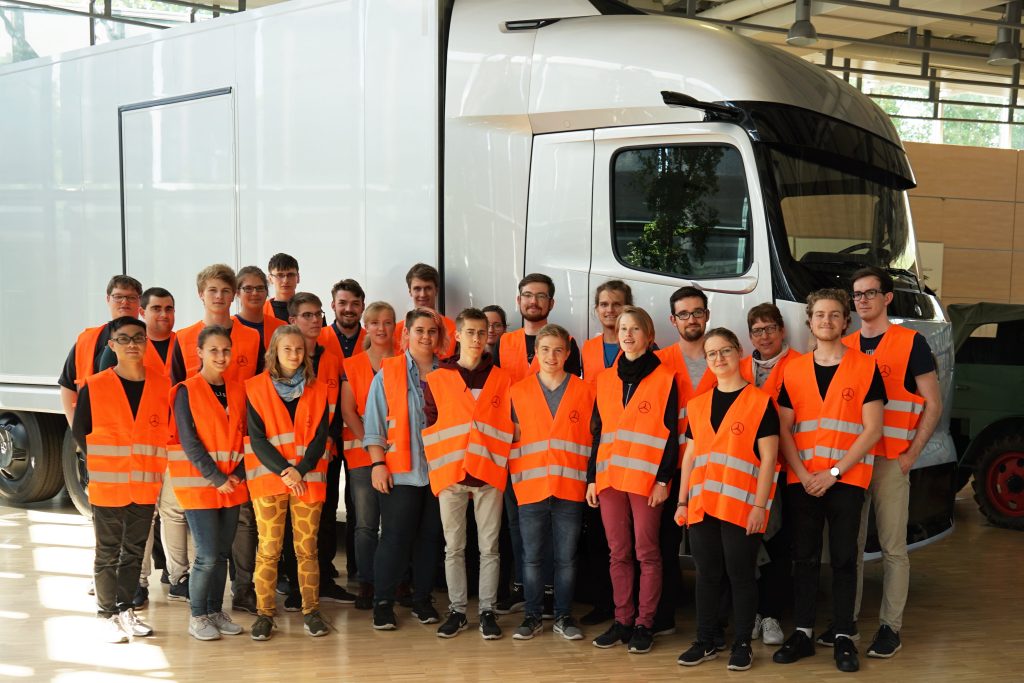 This is the information-site about the Summerexcursion 2019 to the beautiful city Karlsruhe. The excursion takes place on Mai 21st and 22rd. This site provides the highlights of the excursion and further Information for you. Have a look and join the excursion! 😉
Highlights:
Excursion to Siemens:
The industrial park of Siemens in Karlsruhe stands for research and innovation and is more than worth seeing. During our visit we receive a short introduction (safety briefing, facts / figures / facts, digitization history: topic simulation etc.), followed by a production tour. This provides insight into the current manufacturing strategy of Siemens. We also visit the innovation lab and get an introduction of apps from the Siemens Cloud , which are used as digital assistants in the manufacturing processes.
Excursion to Precitec:
Precitec deals with all topics related to lasers. From FineCutter to SpeedCutter to MiniCutter, they have a suitable laser cutter for every situation. With cutting widths of only 10μm or speeds of 140m / min, everyone will find what they need. They also offer high-quality laser welding and optical measuring technology, for example interferometric sensors and chromatic sensors.
Diner at "Badisches Brauhaus":
On the evening of the first day we would like to spend a convivial evening with you. The "Badisch Brauhaus" offers home-brewed beer, Baden-Swabian specialties and an inviting ambience. We have reserved  from 19 clock. The costs will be paid by yourself in this evening
Die city centre of Karlsruhe:
Karlsruhe city center invites you to discovery and exploration with its well-kept old town. Numerous places and the castle in the center with the corresponding park await you. Our hostel is close to the center and promises short walking distances to move in the city.
The KIT
The Karlsruhe Institute of Technology (KIT) is not just a technical university, but also one of the largest research and educational institutions in Germany. Of course, that seems like a perfect destination for us! You can choose one of three different groups, which will make different stops at the "Institute for Technical Physics" (ITEP). The following tours are planned:
Group 1 (completely in English)
LN2 experiments and the 2kW-He-low temperature plant
TOSKA (Toroidal coil testing facility Karlsruhe)
TIMO (cryopump test)
Superconducting materials and energy applications
Group 2 (in German)
KATRIN experiment (Karlsruhe Tritium Neutrino Experiment), "Neutrino balance"
CryoMaK (cryogenic material testing)
Superconducting materials
Group 3 (in German)
TLK (Tritium Laboratory Karlsruhe)
Superconducting materials
CryoMaK (cryogenic material testing)
For further detailed explanations, visit the following site: https://www.itep.kit.edu/english/890.php
Excursion to Daimler: (only in German)
At Daimler, we gonna visit the manufacture "Wörth".  After an short introduction in the customer center, a factory-owned bus brings us into production. Here, the areas of cab shell construction, interior fitting construction and the final assembly will be visited until the finished vehicles roll off the conveyor belt. So if you have never visited a factory of an automobile manufacturer, this is the right place to see!
Excursion to PI:
Physics-Instruments (PI) is a company that deals with the topics of precision motion and nanopositioning.They use magnetic drives and piezoceramics to realize the smallest microscope settings, finest laser guidance and alignment of ultrasonic sensors and photonic components.
Participants fee and important information:
The registration fee is 35€ (50€ for employee), pay it in the FSR-office. Please remember to get a receipt.
In the contribution are all excursions, the journey, the overnight stay, entrance fees, as well as breakfast and lunch on the second day contained.
The registration in the form is not binding! Only the payment of the participation fee in the FSR office will secure you a place in the bus to Karlsruhe!
Further information, also to the exact procedure, you receive shortly before the excursion by Mail.